---
---
Description

Shipping

Returns, Exchanges & Refunds

FAQ's
WHY DO YOU NEED THIS?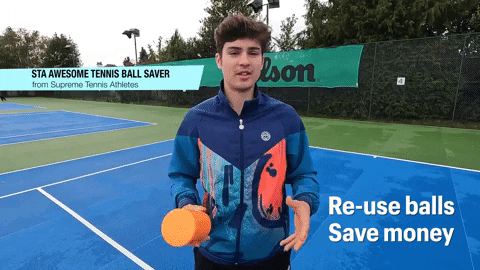 😔Are You Tired Of Always Having To Play With Dead Balls??
😕Are You Tired Of Always Having To Replace Tennis Balls????
😷Now You Can Eliminate All Your Struggles And Just Play  
👨‍⚕️The Awesome Tennis Ball Saver Is Guaranteed To Preserve Your Tennis Balls 
🥇Not To Mention How Much More You'll Be Able To Play
💪Order 2 Or More Today And Get Tennis Specific 4-Week Workout Program $97 Value🎾
🤑Get Yours Today For 60% OFF. Act Fast Limited Quantity Available🤑
This Is Great For All Tennis Lovers And Players!
A NEW AWESOME BALL EVERY TIME YOU USE IT: A one-of-a-kind tennis ball storage system that holds balls under equal internal and external pressures preventing air from seeping in and out of pores.
MAKES THE PERFECT TENNIS GIFT: For yourself or someone special, The Awesome Tennis Ball Keeper is the perfect must have to any tennis lover's bag.
SAVE TIME AND MONEY: Never worry about last minute runs for fresh balls ever and again! The Awesome Tennis Ball Saver ensures a fresh bounce just like new every time you open the container!
LIGHTWEIGHT AND PORTABLE: A comparable size and weight to an ordinary tennis ball storage container, the Tennis Ball Saver is easy to take anywhere.
QUALITY CONSTRUCTION: Made with high-quality standards, the Awesome Tennis Ball Saver is made of a durable plastic casing that will hold up to travel, wear and tear so you can protect your tennis balls for years to come! Holds Up To 3 balls 
💪Order 2 or More Today And Get Tennis Specific 4-Week Workout Program $97 Value🎾
Get yours today for 60% off for a limited time only. Note: Inventory is low due to discount and high demand.
SUPREME TENNIS ATHLETE'S 5-STAR CHECKLIST⭐⭐⭐⭐⭐
FREE shipping. No surprises or hidden fees.
Safe payments via Stripe® and/or PayPal®
30 Day Money Back Guarantee
Real humans on our support helpdesk! 
Tracking number for every order
We use encrypted SSL certificates for 100% security.
Tracking Number With Every Order/ Please Be Patient As We Work To Fulfill Every Order
Packaging:
1 x STA Awesome Tennis Ball Saver
1 x Gasket
1 x Instruction Manual
Tennis Racquet Not Included
SATISFACTION GUARANTEED - EASY REFUNDS
If for whatever reason, you decide you are not satisfied, you can easily and quickly contact our helpful customer support to get an easy refund. We just ask that you at least give the product a 30 day try and we'll refund you, no questions!
Shipping may take from 14 days up to 2 months, depending on your location and the opening hours of your local post office. The average delivery time is around 14 business days.
Update: Due to the pandemic it make take a bit longer. You will be provide tracking number and tracking updates
Returns, Exchanges & Refunds
I don't like my item, can I return it?
Yes, all returns are accepted within 30 days after receiving the item. All products should be returned in original package and return delivery costs paid by the returner. Proof of original delivery and proof of postage should then be emailed to Info@supremetennisathletes.com.
My item arrived damaged. Can I return it?
Damaged/defective/wrong items may be exchanged. Please email Info@supremetennisathletes.com to get a new item or refund.
Can I return an item and change it to a different one?
Provided that the returned item is in a perfect condition, and the products cost match, exchanges are possible. Please email Info@supremetennisathletes.com for further instructions.
How long does it take to refund?
Refunds may take up to 14 working days, depending on the system you used to pay with.
Does tennis ball keeper work?
Higher pressure in the can is the reason behind the flattering of the balls. The tennis ball keeper doesn't remake the ball like the new one but will slow down the flattering process.
What is the shelf life of the can of tennis balls?
You might be surprised that the unopened or sealed pressurized tennis balls can last only 2 years if they remain unopened and in pristine condition. Because with time, the pressure present in the can of tennis balls slowly leaks out in the packaging, resulting in no use of flat balls.
What qualities STA tennis ball keeper has?
STA Tennis ball keeper is designed to hold the ball under equal external and internal pressures preventing it from seeping out of the pores. The material used in STA tennis ball keeper manufacturing is durable plastic, so it remains unaffected for several years.
---