---
---
Description

Shipping

Returns, Exchanges & Refunds
How It Works The Swing Amplifier Is The Perfect Weight Resistance With Actual Stroke Exercises To Further Enhance Your Tennis Techniques To Quickly Form The Muscle Memory Needed For The Perfect Swing, While Increasing Strength Of Every Muscle Needed In The Kinetic Power Chain. Improve The Quality And Stability Of Every Swing!
The Swing Amplifier Can Not Only Improve Swing Exercises But It Also Gives You Better Understanding Of The Essential Techniques Of Each Shot, While Also Improving On Power Endurance For A More Practical Effect! Train Your Mind And Body For Excellent Form/Technique. For Less Than The Cost Of 1 Private Lesson
This Is Great For Tennis Specific Training/On Court Tennis Training!
Will Improve

 Warm ups, Can Also Help Athletes Rehab Injuries Such As Tennis Elbow.

Excellent For Strength, Racquet Speed And Endurance

Great For F

orehands, Backhands, Volleys And Serves

Suitable For All Levels Of Athletes

An Awesome Way For Athletes To Make Improvements And Enhance Athletic Ability. Anytime, Anywhere 

Package: 1 Pair = 1pc Blue 240g/8oz + 1pc Black 160g/5oz
     Get Your's Today For 70% OFF. Act Fast Limited Quantity Available
💪Order Today And Get Tennis Specific 4-Week Workout Program $97 Value🎾
SUPREME TENNIS ATHLETE'S 5-STAR CHECKLIST⭐⭐⭐⭐⭐
FREE shipping. No surprises or hidden fees.
Safe payments via Stripe® and/or PayPal®
30 Day Money Back Guarantee
Real humans on our support helpdesk! 
Tracking number for every order
We use encrypted SSL certificates for 100% security.
Tracking Number With Every Order/ Please Be Patient As We Work To Fulfill  Every Order
SATISFACTION GUARANTEED - EASY REFUNDS
If for whatever reason, you decide you are not satisfied, you can easily and quickly contact our helpful customer support to get an easy refund. We just ask that you at least give the product a 30 day try and we'll refund you, no questions!
FAQ/HOW TO USE GUIDE
Swing Amplifier Function 1: Warm up
The use of weight/resistance to practice swings before the start of practice or match can help ignite and excite your central nervous system, warm up the muscles and joints, and lessen the likelihood of injuries. Removing the weight you'll feel your true power ignited, which gives you an advantage physically and psychologically.
Swing Amplifier Function 2: Forehand and Backhand 
When the backward/forehand pull is completed, the racquet head will naturally descend under the gravity of the weighted bag to form a swing trajectory from bottom to top, creating a topspin effect
Swing Amplifier Function 3: The Serve
Serving practice 1. Practice of lowering the racquet head. Do the swing practice of serving the ball. When the trophy action is completed, turn the forearm holding the clap hand downwards. The gravity effect of the weight will make the racquet fall more. Keep this action for 1 minute. Then repeat this movement of lowering the racket head

Serve practice 2. Upward swing and arm valgus practice (pronation)

After completing the movement of lowering the racquet head, swing the elbow toward the target hitting point, and at the same time stretch the hitting arm straight, and turn the body while pushing the ground. Relax your wrists and a heavier head will help complete the pronation movement
Swing Amplifier Function 4: Swing Speed/ Racquet Head Speed.
Pay attention to keeping fully relaxed during the initiation and follow-through phases. Only when the racquet passes through the hitting area, the muscles are maintained to tighten and exert force instantly, thereby strengthening the control of the racquet surface and the hitting. When practicing, turn your body fully and shift your body's center of gravity to the hitting point. For full execution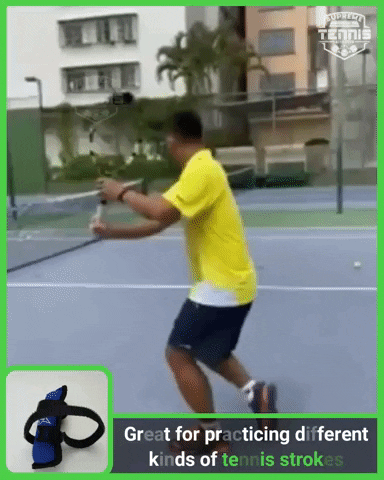 Shipping may take from 14 days up to 2 months, depending on your location and the opening hours of your local post office. The average delivery time is around 14 business days.
Update: Due to the pandemic it make take a bit longer. You will be provide tracking number and tracking updates
Returns, Exchanges & Refunds
I don't like my item, can I return it?
Yes, all returns are accepted within 30 days after receiving the item. All products should be returned in original package and return delivery costs paid by the returner. Proof of original delivery and proof of postage should then be emailed to Info@supremetennisathletes.com.
My item arrived damaged. Can I return it?
Damaged/defective/wrong items may be exchanged. Please email Info@supremetennisathletes.com to get a new item or refund.
Can I return an item and change it to a different one?
Provided that the returned item is in a perfect condition, and the products cost match, exchanges are possible. Please email Info@supremetennisathletes.com for further instructions.
How long does it take to refund?
Refunds may take up to 14 working days, depending on the system you used to pay with.
---