---
---
Description

Shipping

Returns, Exchanges & Refunds
😔Are You Lacking The Speed And Agility To Compete At Your Best On The Court???
😕Are Struggling To Find A Training Program That Works For You????
😷Now You Can Eliminate All Your Struggles And Dominate  
👟The STA Speed & Agility Formula Is Guaranteed To Improve Slow Feet  
🥇Not To Mention How Many More Matches You'll Win
🤑Get Your's Today For 70% OFF. Act Fast Limited Download🤑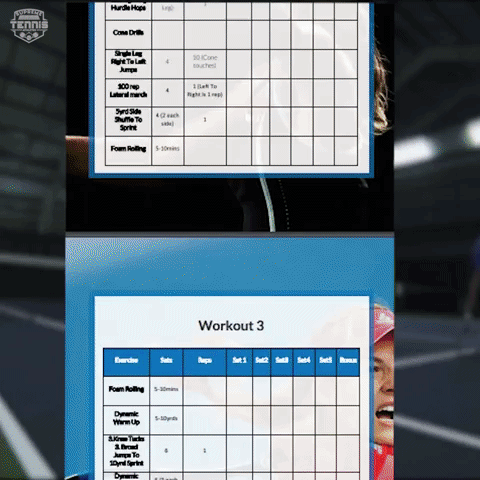 STA SPEED & AGILITY FORMULA 4-WEEK TRAINING PROGRAM
Who Should Buy
🎾Who Is The STA SPEED & AGILITY Formula For🎾

(JUNIORS) The Formula is excellent for all ages as this is the time you want to set the foundations of top tennis fitness for life.
(AMATEURS

)The Formula is excellent for players of any standard looking to improve everything about their on court performance, power, speed and agility

(SENIORS) The Formula is excellent if you're a bit older but you still have the burning desire to compete/challenge every point, continue to play to your full potential. 
 👟The Benefits Of The STA Speed & Agility Formula👟
IMPROVE Speed And Agility
IMPROVE Balance And Core Stability
IMPROVE Fast Twitch Fibers
GAIN Reaction Time
GAIN The Competitive Advantage
ENHANCE Athletic Ability
🏅The STA Speed & Agility Formula🏅
3 Training Sessions A Week
Dynamic Warm-up And Cool Down Method
Pre/Post Recovery Method
Injury Prevention/Reduction
Detailed Video Of Each Exercise
Bonus 5th Week (No Extra Charge)
Get yours today for 70% off for a limited time only. Note: Discount valid for the first 100 customers
SUPREME TENNIS ATHLETE'S 5-STAR CHECKLIST⭐⭐⭐⭐⭐
Digital Training Program
Safe payments via Stripe® and/or PayPal®
30 Day Money Back Guarantee
Real humans on our support helpdesk! 
Download Directly To Your Phone
We use encrypted SSL certificates for 100% security.
Extremely High Demand: Discount Valid For The First 100 Customers
FAQ's
Supreme Tennis Athletes SPEED & AGILITY  Formula is suitable for all fitness types. The program is 4-weeks there is an modification for each exercise so you do exactly what you can and improve each week.
How young and old can you be to start the program?
  Supreme Tennis Athletes SPEED & AGILITY  Formula is perfect for all age and fitness types, workouts can be altered to match your current level of fitness and take you to the next level.
I'm new to tennis, will this help me? 
Absolutely, the program is easy to follow and will give you the perfect fitness base to enjoy the game and have the speed and agility to be competitive on the court.
What makes Supreme Tennis Athletes Functional Strength Formula   different from other strength training programs?
Most training programs today are based on board basic dated training principles, Supreme Tennis Athletes SPEED & AGILITY  Formula is designed specifically for you the tennis athlete. Helping you develop the quickness needed to perform at your best on the court. Become Supreme
*STA Speed & Agility formula is completely downloadable, No physical product will be shipped. After you order you'll get instant access to download the program. If you have any questions please contact us at Support@supremetennisathletes.com
Shipping may take from 14 days up to 2 months, depending on your location and the opening hours of your local post office. The average delivery time is around 14 business days.
Update: Due to the pandemic it make take a bit longer. You will be provide tracking number and tracking updates
Returns, Exchanges & Refunds
I don't like my item, can I return it?
Yes, all returns are accepted within 30 days after receiving the item. All products should be returned in original package and return delivery costs paid by the returner. Proof of original delivery and proof of postage should then be emailed to Info@supremetennisathletes.com.
My item arrived damaged. Can I return it?
Damaged/defective/wrong items may be exchanged. Please email Info@supremetennisathletes.com to get a new item or refund.
Can I return an item and change it to a different one?
Provided that the returned item is in a perfect condition, and the products cost match, exchanges are possible. Please email Info@supremetennisathletes.com for further instructions.
How long does it take to refund?
Refunds may take up to 14 working days, depending on the system you used to pay with.
---