---
---
Description

Shipping

Returns, Exchanges & Refunds

Faq's
😔Are You Lacking The Strength To Compete At Your Best On The Court???
😕Are Struggling To Find A Training Program That Works For You????
😷Now You Can Eliminate All Your Struggles And Dominate  
💪The Functional Strength Formula Is Guaranteed To Improve Your Strength  
🥇Not To Mention How Many More Matches You'll Win
🤑Get Your's Today For 70% OFF. Act Fast Limited Download🤑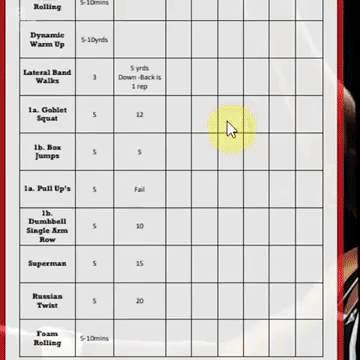 STA FUNCTIONAL STRENGTH FORMULA 4-WEEK TRAINING PROGRAM
Who Should Buy
🎾Who Is The STA Functional Strength Formula For🎾

(JUNIORS) The Formula is excellent for anyone over the age of twelve as this is the time you want to set the foundations of top tennis fitness for life.
(AMATEURS

)The Formula is excellent for players of any standard looking to improve everything about their on court performance, speed, power, strength, and agility.

(SENIORS) The Tennis Functional Training Formula is excellent if you're a bit older but you still have the burning desire to compete/challenge every point, continue to play to your full potential.
 💪The Benefits OF The STA Functional Strength Formula💪
IMPROVE Strength And Power
IMPROVE Balance And Core Stability
IMPROVE Muscle Endurance
GAIN Lean And Functional Muscle
GAIN The Competitive Advantage
ENHANCE Athletic Ability
🏅The STA Functional Strength Formula🏅
3 Training Sessions A Week
Dynamic Warm-up And Cool Down Method
Pre/Post Recovery Method
Injury Prevention/Reduction
Detailed Video Of Each Exercise
Bonus Active Recovery Session
Bonus 5th Week (No Extra Charge)
Get yours today for 70% off for a limited time only. Note: Discount valid for the first 100 customers
SUPREME TENNIS ATHLETE'S 5-STAR CHECKLIST⭐⭐⭐⭐⭐
Digital Training Program
Safe payments via Stripe® and/or PayPal®
30 Day Money Back Guarantee
Real humans on our support helpdesk! 
Download Directly To Your Phone
We use encrypted SSL certificates for 100% security.
Extremely High Demand: Discount Valid For The First 100 Customers
FAQ's
Supreme Tennis Athletes Functional Strength Formula is suitable for all fitness types. The program is 4-weeks there is an modification for each exercise so you do exactly what you can and improve each week.
How young and old can you be to start the program?
  Studies have supported that strength training does NO damage to the epiphyseal plates, there is this myth that young tennis athletes shouldn't strength train because there growth will be stunted. Studies have also shown that a good strength program can enhance ability in young athletes as young as 12… It's more about form and safety. Also its never too late to start a strength program... Seniors have benefited greatly from strength training, keep in mind workouts can be altered to match your current level of fitness.
I'm new to tennis, will this help me? 
Absolutely, the program is easy to follow and will give you the perfect fitness base to enjoy the game and have power and strength be competitive on the court.
What makes Supreme Tennis Athletes Functional Strength Formula   different from other strength training programs?
Most training programs today are based on board basic dated training principles, Supreme Tennis Athletes Functional Strength Formula is designed specifically for you the tennis athlete. Helping you develop functional strength to perform at your best on the court. Become Supreme
*STA Functional Strength formula is completely downloadable, No physical product will be shipped. After you order you'll get instant access to download the program. If you have any questions please contact us at Support@supremetennisathletes.com
Shipping may take from 14 days up to 2 months, depending on your location and the opening hours of your local post office. The average delivery time is around 14 business days.
Update: Due to the pandemic it make take a bit longer. You will be provide tracking number and tracking updates
Returns, Exchanges & Refunds
I don't like my item, can I return it?
Yes, all returns are accepted within 30 days after receiving the item. All products should be returned in original package and return delivery costs paid by the returner. Proof of original delivery and proof of postage should then be emailed to Info@supremetennisathletes.com.
My item arrived damaged. Can I return it?
Damaged/defective/wrong items may be exchanged. Please email Info@supremetennisathletes.com to get a new item or refund.
Can I return an item and change it to a different one?
Provided that the returned item is in a perfect condition, and the products cost match, exchanges are possible. Please email Info@supremetennisathletes.com for further instructions.
How long does it take to refund?
Refunds may take up to 14 working days, depending on the system you used to pay with.
What type of Tennis functional training should a player do?
A tennis player should work on his strength and power to improve his game. Therefore, at STA, we have developed the tennis Functional 4-week training program that will motivate you to do the exercise according to the training program that will improve your functional strength.
What qualities of STA Tennis Functional training has?
If you lack the strength and cannot compete on the court, then you need to join our training program, which will eliminate all your struggles and improve your core strength and balance to improve your chances of winning the match.
For whom do we offer STA functional training?
We have categorized our training program into three levels: Juniors, Amateurs, and Seniors. So that players of every age group get covered and continue to play their game with full potential.
---
THERE IS ONLY ONE STANDARD
IMPROVE Strength And Power

IMPROVE Balance And Core Stability

IMPROVE Muscle Endurance

GAIN Lean And Functional Muscle

GAIN The Competitive Advantage

ENHANCE Athletic Ability

Video Demonstration For Each Exercise
STA FUNCTIONAL STRENGTH FORMULA 4- WEEK TRAINING PROGRAM
This 4-week program is designed for maximum results in a short period of time, it coincides with a tennis athlete's schedule no matter the level or hours per week on court training but to achieve the best possible results, you'll have to follow the program as written. There will be days you might need to modify certain exercises or reps, all in all please follow the program as written. It's only going to benefit you the individual. The first week or so might be difficult due to new training regiment. You will be sore, but you must continue with the routine, as well as your on-court training. Your body is just adapting to the new changes as you are building work capacity which is vital in creating long term success in the sport of tennis.
Why STA FUNCTIONAL STRENGTH FORMULA ?
Quality
The workouts also include plenty of core work the base of every movement is core stability
Training
The Functional Strength Formula requires 2-3 training sessions a week, each workout should take 45 minutes to an hour depending on circumstance.
Benefits
Improve Your Strength, Speed, Power, Agility & Endurance.
How Will This Plan Make Me A Better Tennis Player?
The workouts complement each other, developing functional strength, power and speed, as well as reducing the likelihood of common tennis injuries.
Functional Strength And Speed For Tennis
This program will target major lower and upper body muscles, including the secondary body parts such as the glutes, hamstrings, quads, hips, back and shoulders. You'll develop Fast-twitch fibers produce quick, max-effort contractions that are needed for strong play and other speed/quick movements on the court.
Injury Prevention And Recovery
Each workout starts and finishes with Prehab/Posthab exercises designed to help your muscles strengthen and recover lessening the likelihood of injuries. Even if you become one of the best tennis athletes around, it won't do you much good if you're injured.
"STA FUNCTIONAL STRENGTH FORMULA did exactly what it said it does. Got me stronger, faster and better"
Neil D.
"I would also like to say thank you to all your staff. Thanks for the great training program. Thanks for the great service. I'd be lost without STA FUNCTIONAL STRENGTH FORMULA."
Tamiko T.
"STA FUNCTIONAL STRENGTH FORMULA is worth much more than I paid. I am completely blown away by the results its an incredible program and easy to follow."
Catlin Y.